Flinders Roads Quintych-2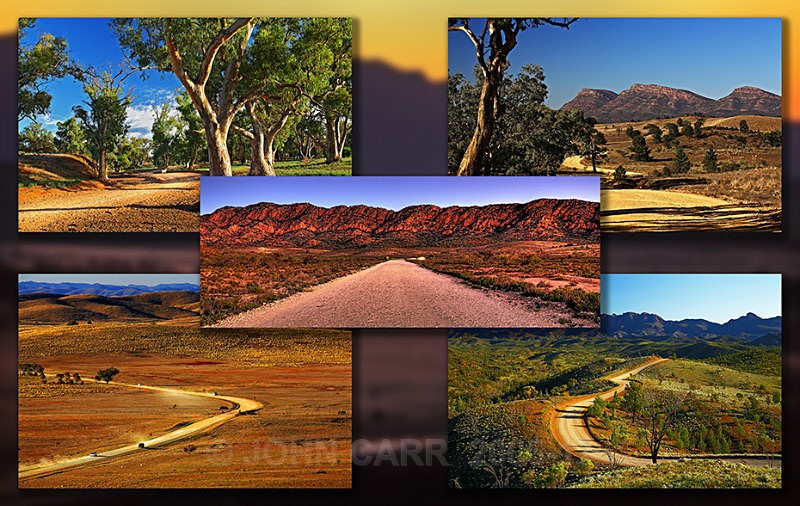 If you have looked at my Flinders Ranges Photos over the Years, you will have noticed this area is my favourite place in South Aussie.
It covers such a large area that no matter how many times I visit I can always find something new to shoot. There are not many Roads/Tracks leading through but the views and the variety never disappoint.
Check for closures after Rain.
You can check
Outback Roads
for conditions.
The blurred back-ground image is taken from Pugalist Hill, a steep look-out just along the Martin's Well Road, nearly opposite the Rawnsley Park Station entrance. It shows a Car on the Dirt Road in the Bottom-Centre, between the Two smaller images, after the Sun had set. The lookout is directly in front of the spectacular Chase Range (seen in the Centre Photo).
The top Left-hand image is of the Moralana Scenic Drive as it cuts through a dried out Creek Bed with a sheep standing defiantly in the middle of it. Gum Trees love Creek Beds.
The Top Right-hand shot is along the Bunyeroo Track showing a very small section of the North-Eastern Ramparts of Wilpena Pound.
The bottom-Left hand photo is from Stokes Hill Lookout looking North with 4-4WD's in the late afternoon light. Brilliant views to most directions from there. Yes I know, the Road from Wilpena to Blinman is sealed now but it doesn't have the same effect.
And finally another Classic Flinders view along the Bunyeroo Track (Razorback Ridge Lookout) leading down to Bunyeroo Gorge and on the Brachinna Gorge. This also shows another section of Wilpena Pound.
As mentioned, the centre image is looking East after the sun has set and is a combination of 3 different exposures to create a very striking shot. The Head-Lights of an approaching 4WD can be seen in the distance.
Flinders Ranges, South Australia.
Canon 5D and 5DMkII + various Lenses + Manfrotto Tripod.
| | |
| --- | --- |
| | |