Country Roads-Quintych-1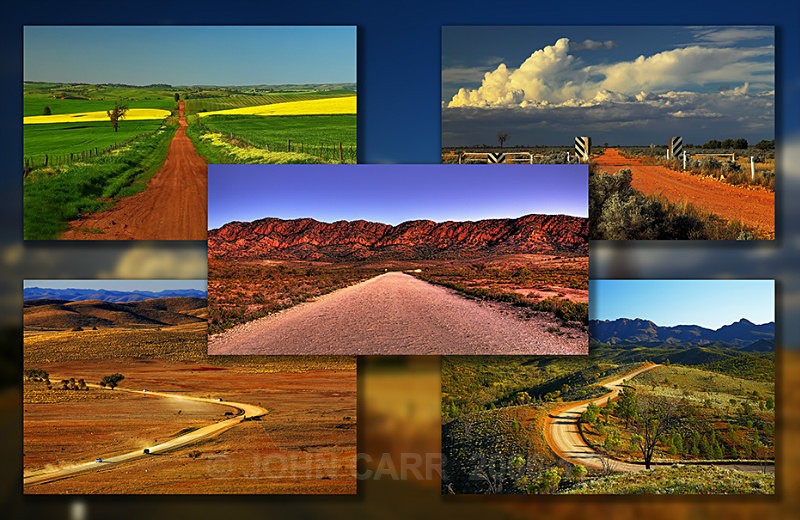 A variation of the 'Flinders Roads' photos, showing a couple of local Dirt Roads.

The back-ground image is taken along the Barrier Highway North of Burra (a little bit hard to see I know). You can see the full shot in the 'Country Scenes' Gallery.

The Top-Left shot is near Kapunda, North of the Barossa valley. The Top-Right hand Photo is on the old Morgan Mail Road, 60-70km North of Morgan on a Storm chase.
The bottom-Left hand photo is from Stokes Hill Lookout in the Flinders Ranges looking North with 4-4WD's in the late afternoon light. Brilliant views to most directions from there. Yes I know, the Road from Wilpena to Blinman is sealed now but it doesn't have the same effect.
The bottom-Right hand shot is another Classic Flinders view along the Bunyeroo Track (Razorback Ridge Lookout) leading down to Bunyeroo Gorge and on the Brachinna Gorge. This shows a small section of Wilpena Pound.

The centre image is on the Martins Well Road, (almost opposite to the Rawnsley Park Station turn off) looking East to the Chase Range after the sun has set and is a combination of 3 different exposures to create a very striking shot. The Head-Lights of an approaching 4WD can be seen in the distance.

South Australia.

Canon 5D and 5D MkII + various Lenses + Manfrotto tripod.
| | |
| --- | --- |
| | |