Country Roads Quintych-2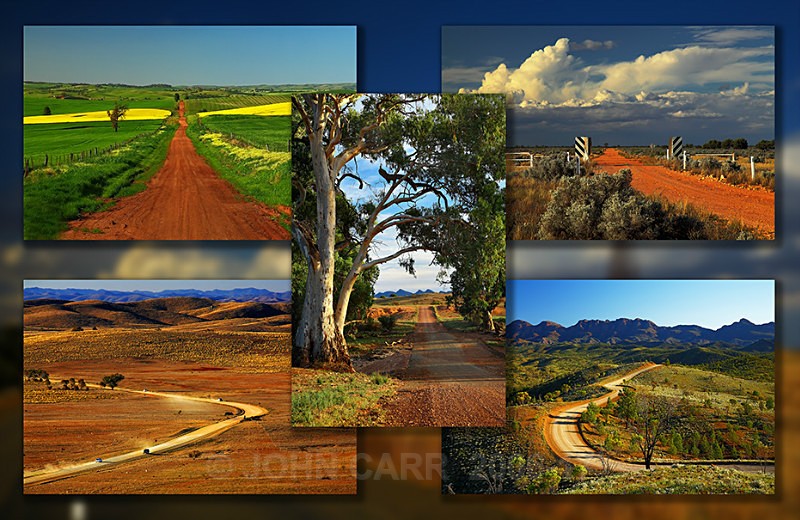 A variation of the 'Flinders Roads' photos, showing a couple of 'local' Dirt Roads.

The back-ground image is taken along the Barrier Highway North of Burra (a little bit hard to see I know). You can see the full shot in the 'Country Scenes' Gallery.

The Top-Left shot is near Kapunda, North of the Barossa valley. The Top-Right hand Photo is on the old Morgan Mail Road, 60-70km North of Morgan on a Storm chase.
The bottom-Left hand photo is from Stokes Hill Lookout in the Flinders Ranges looking North with 4-4WD's in the late afternoon light. Brilliant views to most directions from there. Yes I know, the Road from Wilpena to Blinman is sealed now but it doesn't have the same effect.
The bottom-Right hand shot is another Classic Flinders view along the Bunyeroo Track (Razorback Ridge Lookout) leading down to Bunyeroo Gorge and on the Brachinna Gorge. This shows a small section of Wilpena Pound.

The centre image is a very early morning shot along the Moralana Scenic Drive in the Wilpena Creek Bed, dry of course but the River Red Gums still manage to thrive there. A small section of the Wilpena Pound Ramparts can be seen in the distance. Flinders Ranges.

South Australia.

Canon 5D and 5D MkII + various Lenses + Manfrotto tripod.
| | |
| --- | --- |
| | |