FLINDERS GRASS TREE & STAR TRAILS.-8491-Frame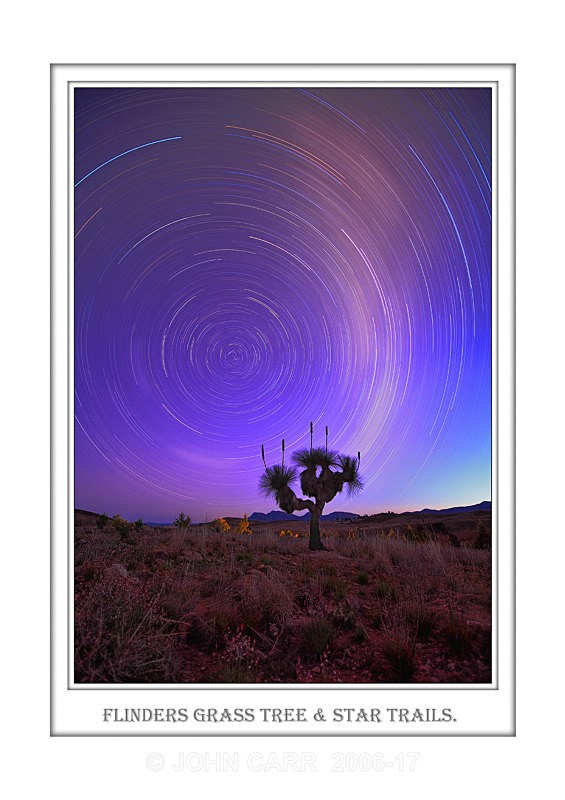 NEWS IN - Just in case you haven't read the News story on the Home Page, this image has been included in the 2012 Brenton Ragless SA Almanac inside the back cover - Yes I know I've told you before but too many times is never enough:)
You may continue
- Some times a 4 night holiday can turn into some thing else. I had a strange feeling in my water when I prepared for some long exposure shots and for some reason I started too early when there was a bit too much light in the sky.
After 2 hours 15 minutes the night sky was interspersed with spotlights - I knew this wasn't good news.
I quietly crept out of the car, took a few steps and 'Crack' a high velocity rifle shot went some where over my head!! Had to make a decision, soon. It was either a Kangaroo shooter or a crack pot!!! some where over the rise. I decided to get my 2 Cameras, mounted on Tripods, which were about 30 metres from me on a slight rise. With no lights on I grabbed both of them by the scruff of the neck and stumbled back to the Car. I shoved them onto the back seat, got in and took a swig of water and decided to move.
I made it back onto the Bunyeroo Track and Had to go in the direction of the firing, no other way out, I rounded the bend and there was his 4WD with all lights blazing so I just kept on going and I lived to tell the tale:)
If you look closely you can see where the spotlight has caught the tops of the trees around the base area of the grass Tree.
As I thought, the exposure was a bit tooo light but in Photoshop I managed to bring back the details and colour by combining it with an under-exposed copy.
Flinders Ranges, South Australia.
The writing is in the Algerian style, Castellar looks good as well and don't forget, you can have any writing you want below the Image.
Canon 5D mkII, Canon 16-35mm lens, 2 hours 20 minutes. tripod.
| | |
| --- | --- |
| | |